So my latest children's book, "Lily Lolek: Future Saint", recently released with TAN Books. It was a blessing to work with author, Katie Warner. I'd been a fan of her First Faith Treasury books with illustrator Meg Whalen, so I was elated when we got in touch.
I remember when Katie first showed me the manuscript, I was blown away.
It was a simple yet beautiful story of a little girl with a great desire to love God and become the person God created her to be. Lily Lolek as a character seemed like such a special little girl, so young and yet bursting with love for God. I felt that this little girl was special and needed a beautiful world to match the beautiful love she had for God in her heart

These were a few potential character designs for Lily. I asked Katie which one she liked best and that design ended up being the final one for Lily. I liked one of the designs so much that I ended up sneaking her in as one of Lily's friends. Also pictured, Lily's little brother!

Fun fact: I actually named Lily's friends even though they don't have names in the book! I like to name characters as I'm working on them. The little girl with the brown hair and pigtails is my favorite, I named her Zoe. She's adorable haha. <3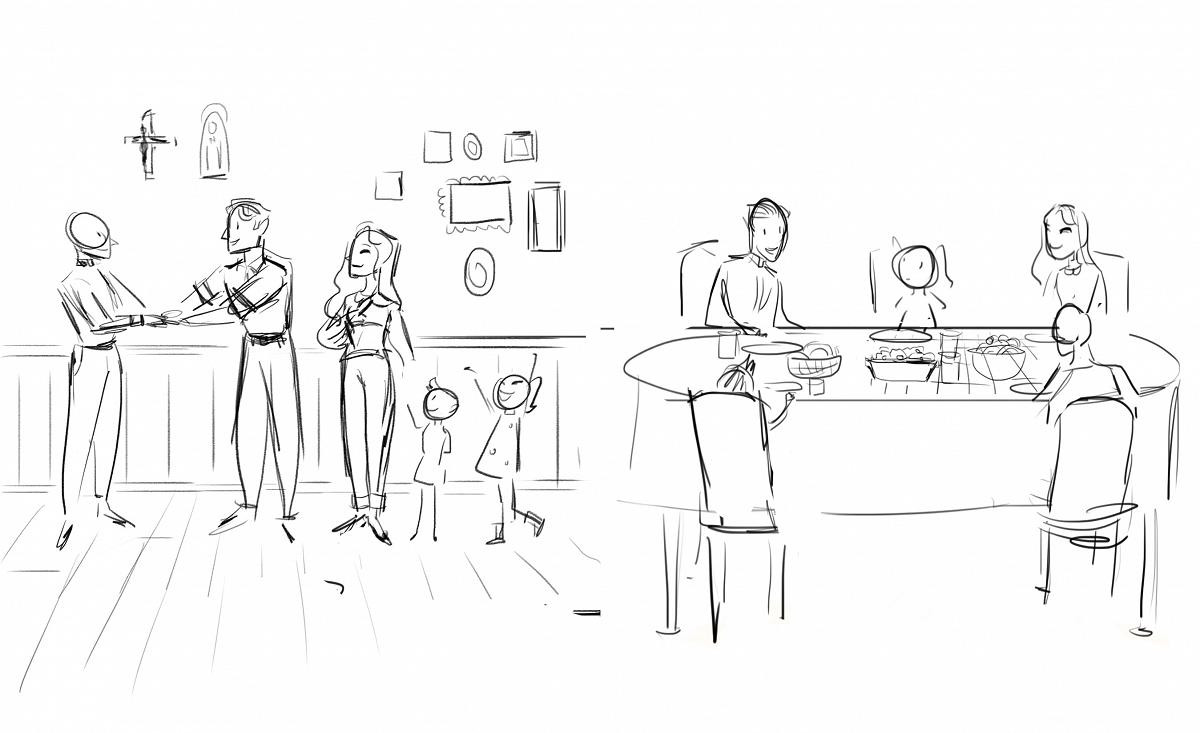 You can get an idea here of how sketchy my work starts. It's super rough, just a bunch of messy black lines, but enough to get the idea across.
In this sketch below, I play around with color and one of the Lily designs. I knew very early on that I wanted to include these colorful swirls and specks of light. In my mind these were visual representations of Lily's great love for God and her desire for sanctity (which of course are all given to her by God). They are an expression the Spirit of God, the light within Lily that just can't seem to be hidden under a bushel basket (Matt 5:15-16), but rather, must be shared with others. We obviously don't have colorful swirls following us everywhere we go, but very often a Catholic artist must help the viewer see a spiritual reality that the human eye can't see on this side of heaven.
If you click on the finished piece peaking through on the right, you'll see how the final image turned out.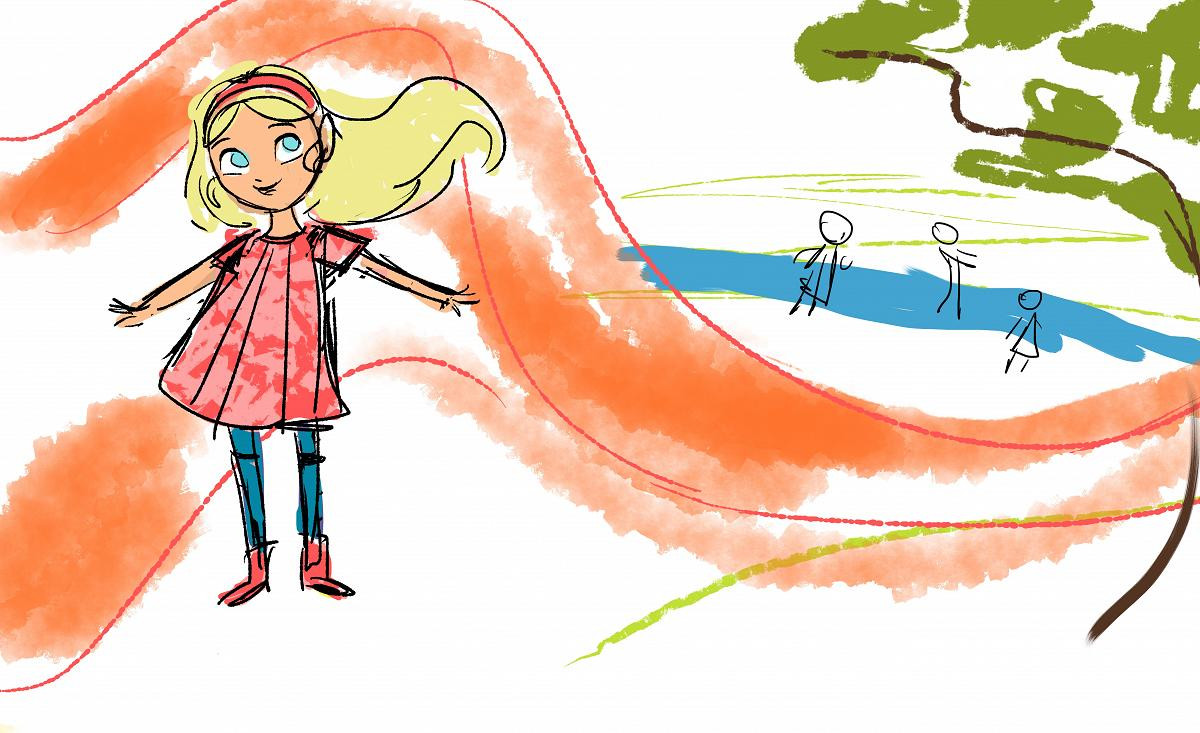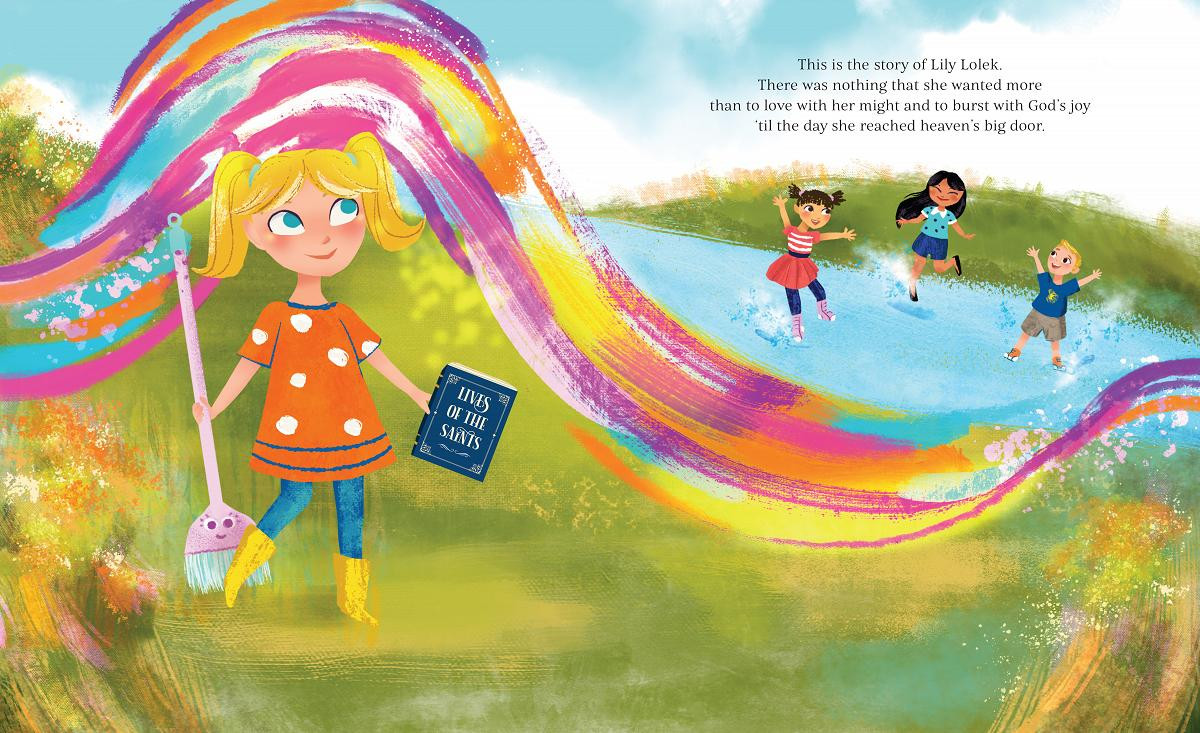 So this was more or less my process with all of the art in the book. Starting out with a simple sketch and then building up layers of color and texture.
Lily Lolek, Future Saint was published by TAN Books and received a wonderful review from Lindsay Schlegel on CatholicMom.com (that you can read here) which I'm very grateful for.
As a Catholic artist it's my intent to share the beauty of our faith and encourage a love for Our Lord Jesus and Our Lady through my unique style of digital art. :)
If you'd like to check out "Lily Lolek, Future Saint" click on the button below.
This isn't a sponsored post or anything, I just wanted to share some insight into my illustration process and TAN Books happens to be having a HUGE sale right now. So this would be a good time to pick up any book that piques your interest.
Anyway, I hope you enjoyed this little look into my process! I Look forward to sharing more book news with you soon! :)
Praised be Jesus Christ and God Bless you!