Hello Friends! Happy New Year's Eve! I hope you've all been having a Merry Christmas season! We're now upon the Solemnity of Mary, Mother of God and it's a wonderful time to renew devotion to Our Lady. Who better to guide us to Christ than His mother? Of course, she's also our mother, so one of my goals for 2021 is to grow in love for Christ through Our Lady.  :)  
I just wanted to share with you all a look at my sketches from my most recent piece that I drew for the feast of The Immaculate Conception. I always find it fun to see the work of other artists and how their sketches lead to the final piece. I thought you guys might find it interesting to see my sketches! Although I use the word "sketches" lightly, because I didn't actually sketch at all before laying in the color for this piece, but you'll find out more about that later! Anyway, I hope you all enjoy this peek at how Our Lady went from the "sketches" on my computer to your screen! Here we go! 
So here's the piece we're looking at today: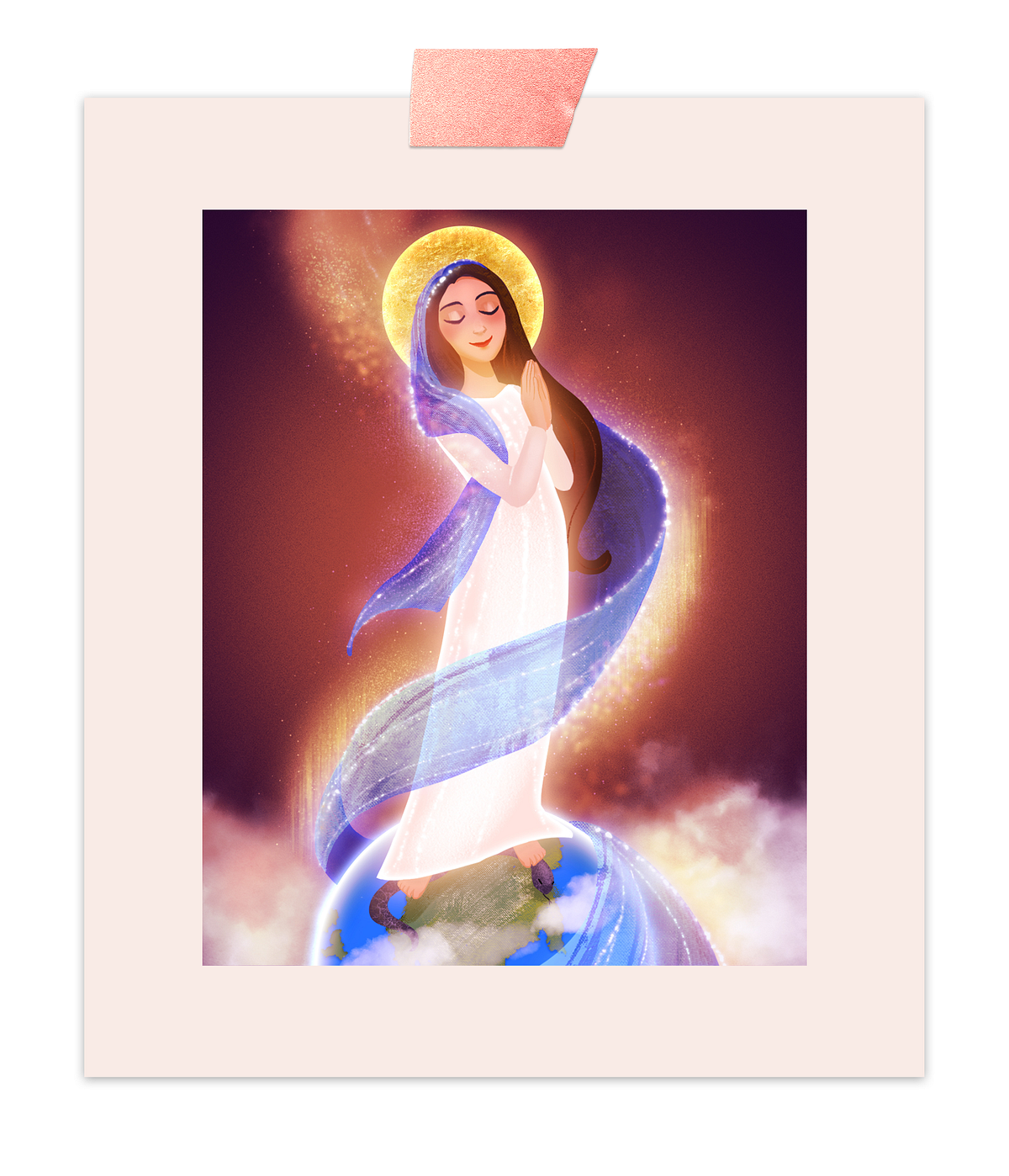 Our Lady peacefully in prayer, interceding for the world and wrapping it in her mantle, all while crushing the head of the serpent. She is illuminated by shimmering light which comes from above, symbolizing God filling her with His Holy Spirit. She wears a white dress signifying her purity.
I really like how this piece turned out, but let's take a look at how it started.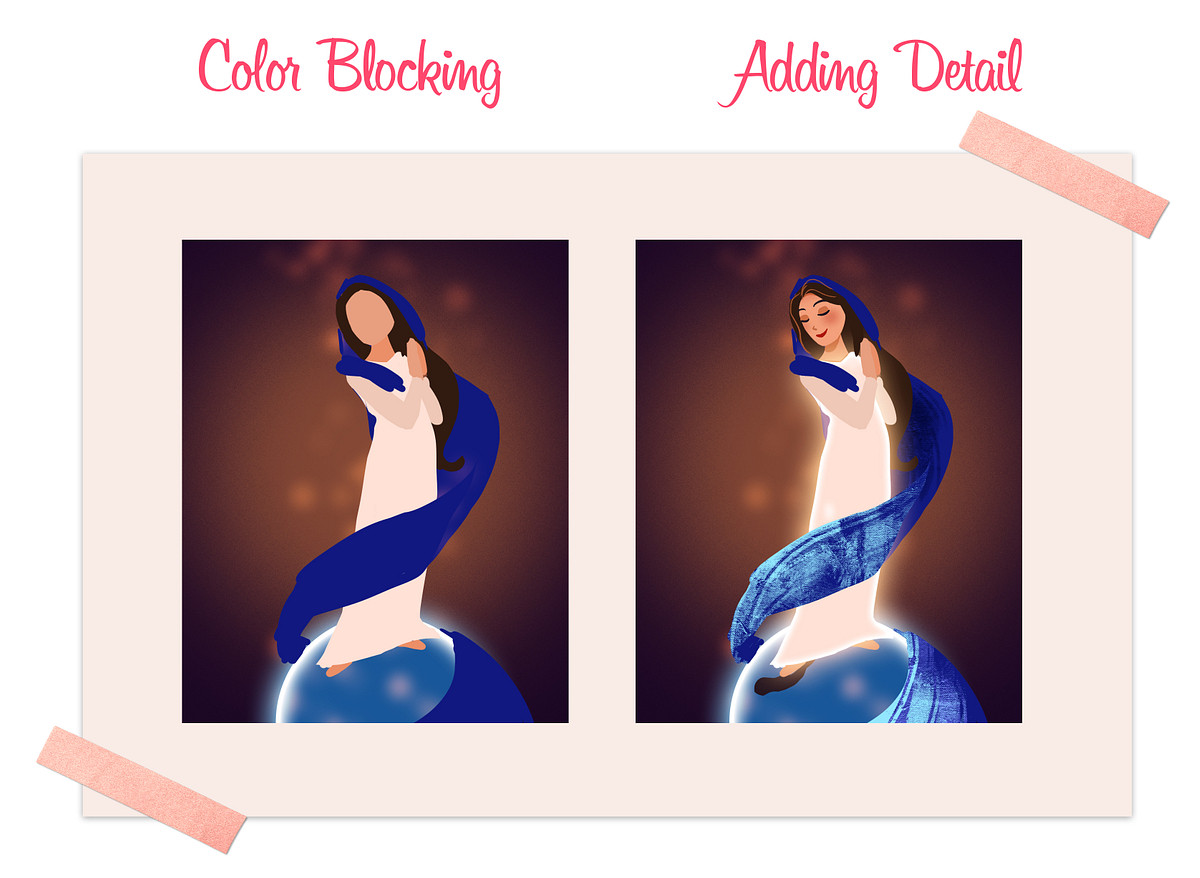 On the Left
The image on the left is how I started the piece. All my work is made in Photoshop. I just dropped in a dark purple background and used a large fuzzy brush to add a bit of light in the center. I dropped in a blue circle for the earth and added an inner and outer glow effect. Next I took a large opaque brush to block in basic colors and shapes. Of course, I already knew I wanted to add shimmer coming from above so I used a spatter style brush to add a spray of particles, and then I blurred that out with the gaussian blur tool.  
 
On the Right 
In the image on the right, I began adding a bit more detail. Putting in some facial features, drawing in how I'd like the hair to fall. You can also see a dark blob by Mary's foot, that's the serpent coming in. The glow that I added to the earth I also added to Mary's dress. I also added a bit of texture to Mary's veil.
On the Left 
Ok so now you can see that I've added a glow effect and more texture to the veil. Mary's dress has sparkles and the earth has land now. I even added more soft particles behind the earth. I rendered out the face a bit more, but by now you're probably noticing something that's not quite right. The head looks completely wrong. She's turned far too much to the left and it's made her head look a bit disjointed from the rest of her body. The expression wasn't workin' for me either. 
On the Right
At this stage I've put in clouds, built up the particles/sparkles, and added to the stream of light. The Blessed Mother needed a halo, so I used a gold texture over a circle. I have a couple of gold textures that I use for different things, but mostly for halos. Gold textures are so versatile! (Digital artist friends: Have any favorite gold papers/textures? Drop me a comment and let me know where you got them.) I also made a separate Photoshop layer on the very top and dropped in a pink color which I set to screen and lowered the opacity. It gives everything a warm cast and makes the colors harmonize.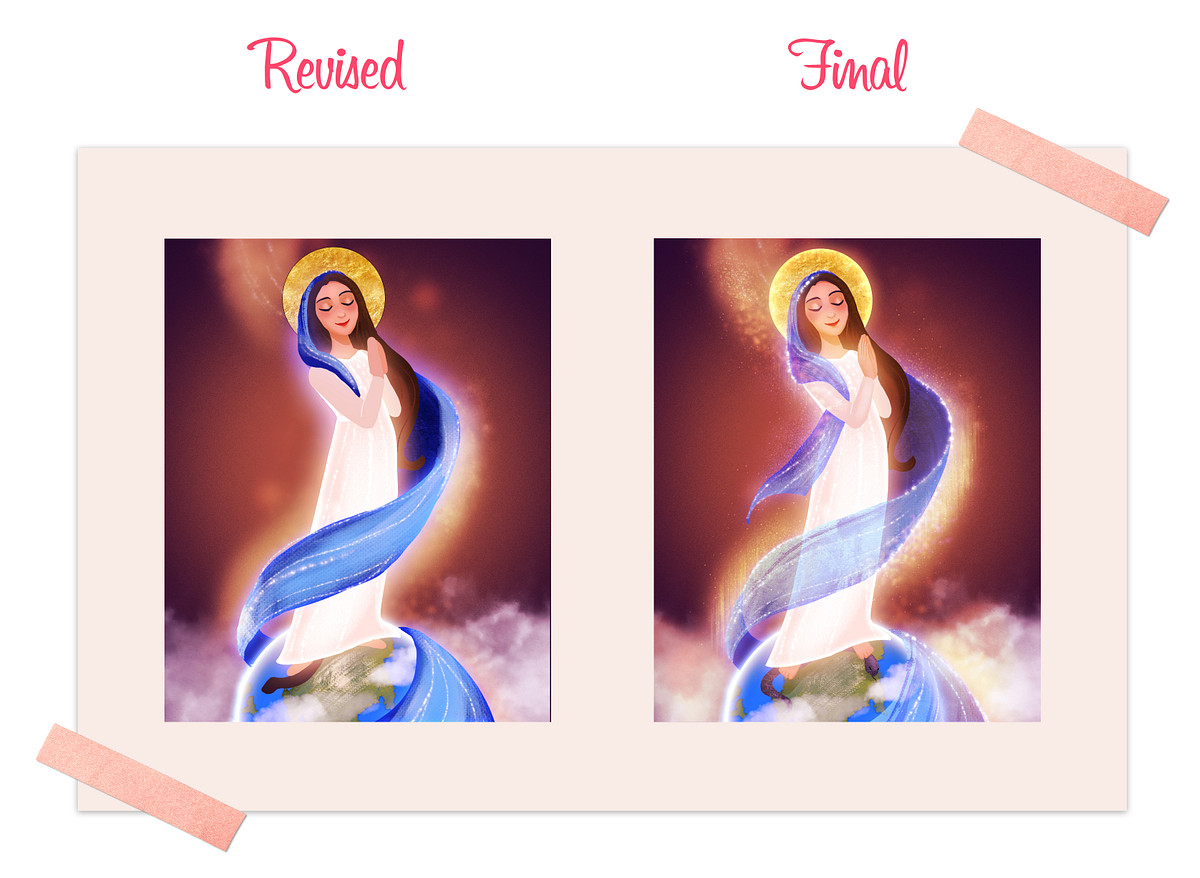 On the Left
Ok! Now we're gettin' somewhere! See how I've completely changed the face? It looks much better than before! Other than that I didn't change too much here.
On the Right
To finish it off, I brought down the opacity of Our Lady's mantle to give it a sheer, gentle appearance. I also love using glowy particles/sparkles so I made sure to add plenty of those. I tried to make it look as if they're falling down to earth. I rendered the serpent and Our Lady's feet and hands. (To make sure she's steppin' on him good!) Finally, I gave Our Lady's halo a nice glow effect.


Voilà! There you have it! From sketch to screen! I hope you enjoyed this behind the scenes look at my process. If you have any questions about what brushes I use, or how I did something in particular, drop a comment or let me know and I'd be happy to share! 

God Bless and may Our Lady, The Immaculate Conception guide you to holiness and everlasting happiness with Christ in this new year! :)